Bee Build Builds Better Bee$
Here at Dewar Apiaries, we manufacture three pollen substitutes for bees. All Bee Build pollen substitutes have been formulated to meet the profile of the near perfect pollen chemical composition.  PLEASE NOTE: We distribute from Ipswich, Queensland and Bendigo, Victoria.  For best prices on freight, order 25 kg, 20 kg, and 10 kg from your nearest outlet. For 5 kg, Bee Build sausages, and Bee Boost go to www.beescientifics.com/bee-build
Queensland: Stay here! Order here!
Victoria: Order here: www.beescientifics.com/bee-build
Pollen Substitute Analysis
Crude Protein minimum 40%
Amino Acids – *Threonine, *Valine, *Methionine, *Isoluecine, *Eucline, *Phenylanine, *Histidine, *Lysine, *Arginine, *Tryptophan, Cyctine and Tryosine.
Fatty Acids – Linolea, Linolenic, Oleil, Trearil, Palmitic and Lauric.
Vitamins – A, B1, B2, B6, B12, C, D3
Carbohydrates naturally occurring < 2%
Minerals – Sodium, Calcium, Potassium and Phosphorous
*10 Amino Acids essential for bees as per RIRDC- Fat Bees Skinny Bees
L & P Dewar have used RIRDC research (Manning and Somerville) to develop a complete pollen replacement supplement. The Bee Build pollen substitute has undergone significant field testing since the arrival of SHB in 2006.
1. Bee Build
Complete Pollen Replacement
Bee Build with or without Irradiated pollen (90% of sales are with minimum pollen). We have found that when feeding in the open you need that little bit of pollen to attract the bees to the feed station. (Bee Build without pollen upon request only)
Available in bags of:
5KG – $48.00* 
10kg – $91.00* (post or bus freight)
20kg – $176.00* (post or bus freight)
25 kg – $220.00* (road, rail or pick up)
(Discounts apply to bulk orders)
*Please note: postage/freight additional. GST included.
2. Bee Build Protein Sausages
Bee Build Protein Sausage, comes in a plastic sausage skin & is a protein pattie for internal feeding on top of or between Brood frames (good for feeding weak or young hives whilst they build up).
Bee Build Protein Sausage has the same protein & the 10 essential Amino Acids (same formula as Bee Build Powder with Pollen, mixed with a very heavy sugar syrup). We recommend that you only use patties if SHB is under control. If not – use Bee Build powder dry.
Protein Sausages come in packs of:
1kg – $23.00*
3kg – $60.00*
6kg – 90*
11kg – $170.01*
(Discounts apply to bulk orders) Also available from good Beekeeping suppliers.
*Please note: postage/freight additional. GST included.
3. Bee Boost
Bee Boost is a Probiotic. We use it by mixing in with sugar & water. It is then fed to our Queen Cell rearers. It helps control Nosema by feeding the good bacteria in the gut of the Bee.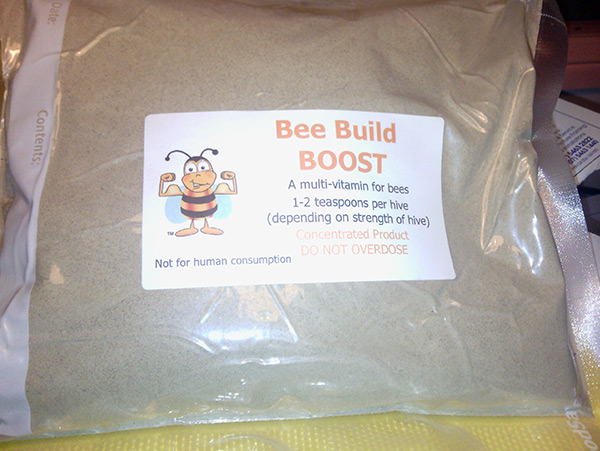 Feed in either sugar water mix (50-50) or dry – one teaspoon sprinkled on brood top bar. Good time to feed is late winter or early spring.
Bee Boost comes in pack of:
1-2 teaspoons per hive, depending on hive strength.
*Please note: postage/freight additional. GST included.
As of 1 July 2015, 10% of all sales will go to honey bee health research.
How to order:
Products can be ordered here by completing the order form. Please include your postcode with your order so we can calculate postage.
For more information on our products, contact us on 07 5463 5513 or email: info@dewarshoney.com.au